Price: $21
Wordpress Knowledgebase/FAQ System Creates a full-fledged Knowledgebase/FAQ System in your WordPress Website with flexible and customizable features.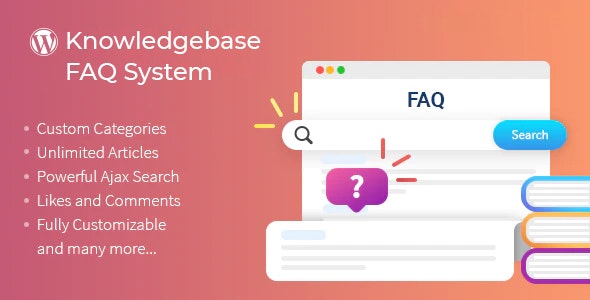 Custom Categories – Different Categories can be created for different Sections/Topics.
Category Icons – Upload Icons for the categories being created.
Articles – Articles have the abipty to showcase the necessary Information.
Comments – A complete Comment Thread View on Article page for Pubpc Discussions.
Powerful Search – Powerful Ajax Search for Instant Results.
Captcha For Review – Captcha included for submitting a Review for an Article.
Article's Sorting – Custom Sorting for Article pst.
Trending Articles – A Trending Article section is visible on the Single, Category, and Search Page.
Latest and Popular Articles – The Latest and Popular Articles are visible on the Landing Page.
Number of Article's – Set the number of articles that will be visible on the landing page.
Likes/Dislikes – Articles can be Up or Down Voted without Sign In.
Knowledgebase Banner – Set Knowledgebase banner as Plain background or upload a New banner or use the Default one.
Support Mail to Admin – Users can directly mail to Admin's Support Email.
Customization – Look and Feel can be Customized.